The days are long, the weather is hot, and the fireflies are aglow. It can only mean one thing: Independence Day has nearly arrived. The Fourth has always been one of my favorite holidays, if not just because of the summer magic I associate with it. Sundresses blow in the summer breeze, watermelon slices disappear from a plate, the smell of charcoal wafts through the air. Patriotic tunes enchant parks from sea to shining sea, striped blankets create a patchwork quilt over large swathes of grass, and bright bursts of colorful sparks fill the night sky. It's simply the best!
But what would summer be without fresh berries bedecking every meal? Berries and cream are a must during these warmth summer months, and what better version exists than the strawberry shortcake?
This summer specialty is made a zillion different ways, but we prefer it with sponge cake in my family. The airy cake soaks up the strawberry juice like nobody's business, and has just the right chew in combination with soft berries and smooth whipped cream. My great-aunt ran a catering business, and she was quite the bakeress (we're talking the walk-in refrigerator, professional Hobart mixer in her basement kind...and yes, I'm a little jealous). She was always whipping up goodies for family functions, and she was especially famed for her sponge cake recipe.
Alas, after years of safe-guarding her cherished creation, I think it's time I shared. A little generosity goes a long way, you know. I hope she knows it's for the betterment of the sponge cake world, and that she's proud it actually worked very well with a simple gluten-free cup-for-cup substitution. Because it's free of a pastry chef's best friend, however, the texture of this GF cake is a just a tad more melt-in-your-mouth than spongey, but I promise it's every bit as delicious as the original. (Note: this recipe remains exactly the same with all-purpose flour and gluten free flour — a rarity!)
Strawberry Filling
32 oz. fresh strawberries
1-2 T. superfine sugar (or to taste)
a squeeze of lemon juice
Whipped Cream
1 quart (32 oz.) heavy (or whipping) cream
1-2 T. superfine sugar (to taste)
1/4 t. - 1 T. vanilla (to taste)
1/4 t. cream of tartar (optional, as a stabilizer)
Sponge Cake
6 eggs, separated
1 c. sugar
2 T. cold water
1 t. vanilla
1 c. flour (I substitute all-purpose flour with Bob's Red Mill Gluten Free 1 to 1 Baking Flour*)
2 t. baking powder
1/4 t. cream of tartar (optional, as a stabilizer)
Note: Depending on how you construct your shortcake(s), you may end up with extra strawberry and/or whipped cream. Personally, I love to have more of both — they make a perfect little snack (or preferably breakfast dessert)!
How to Make the Idyllic Summer Sweet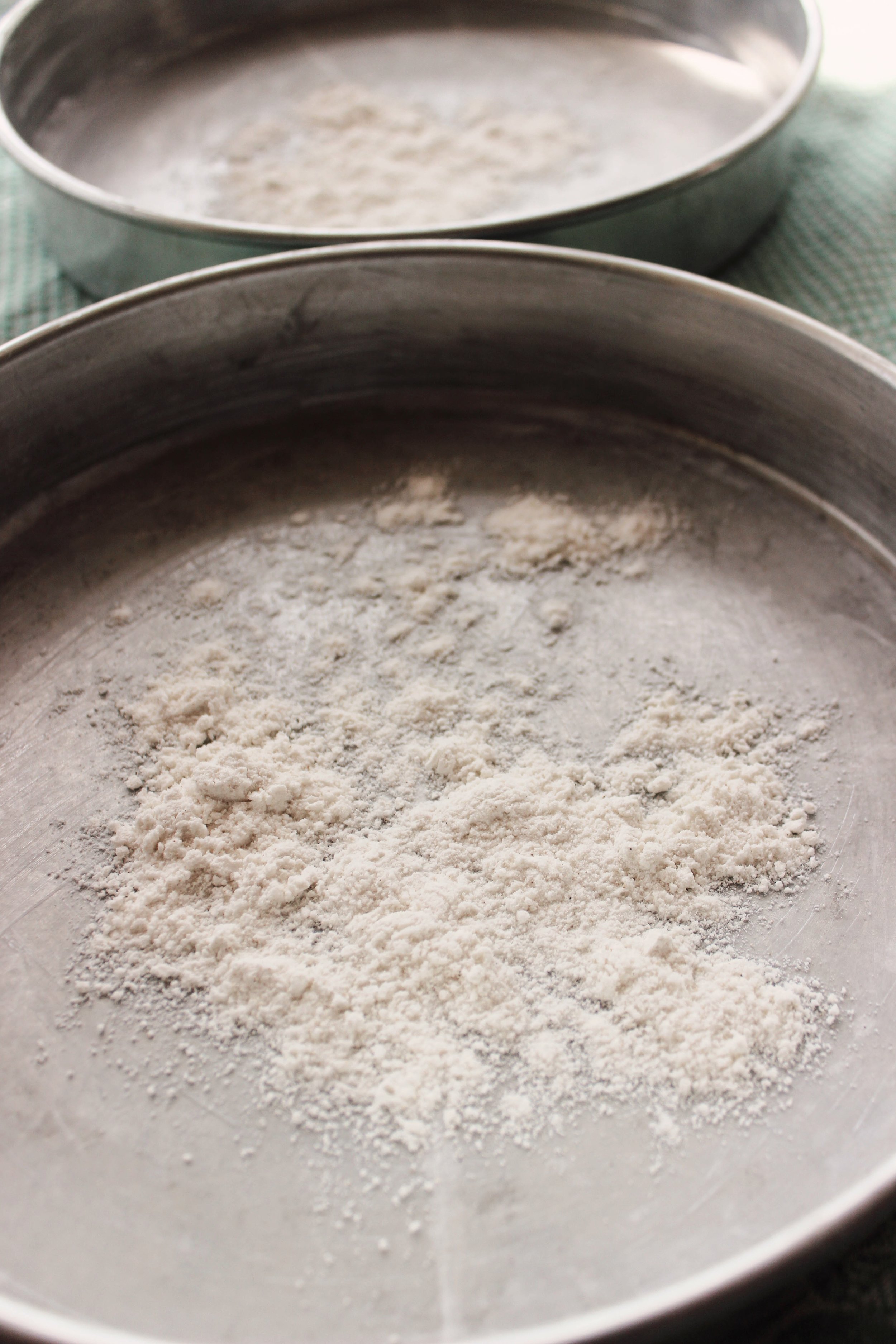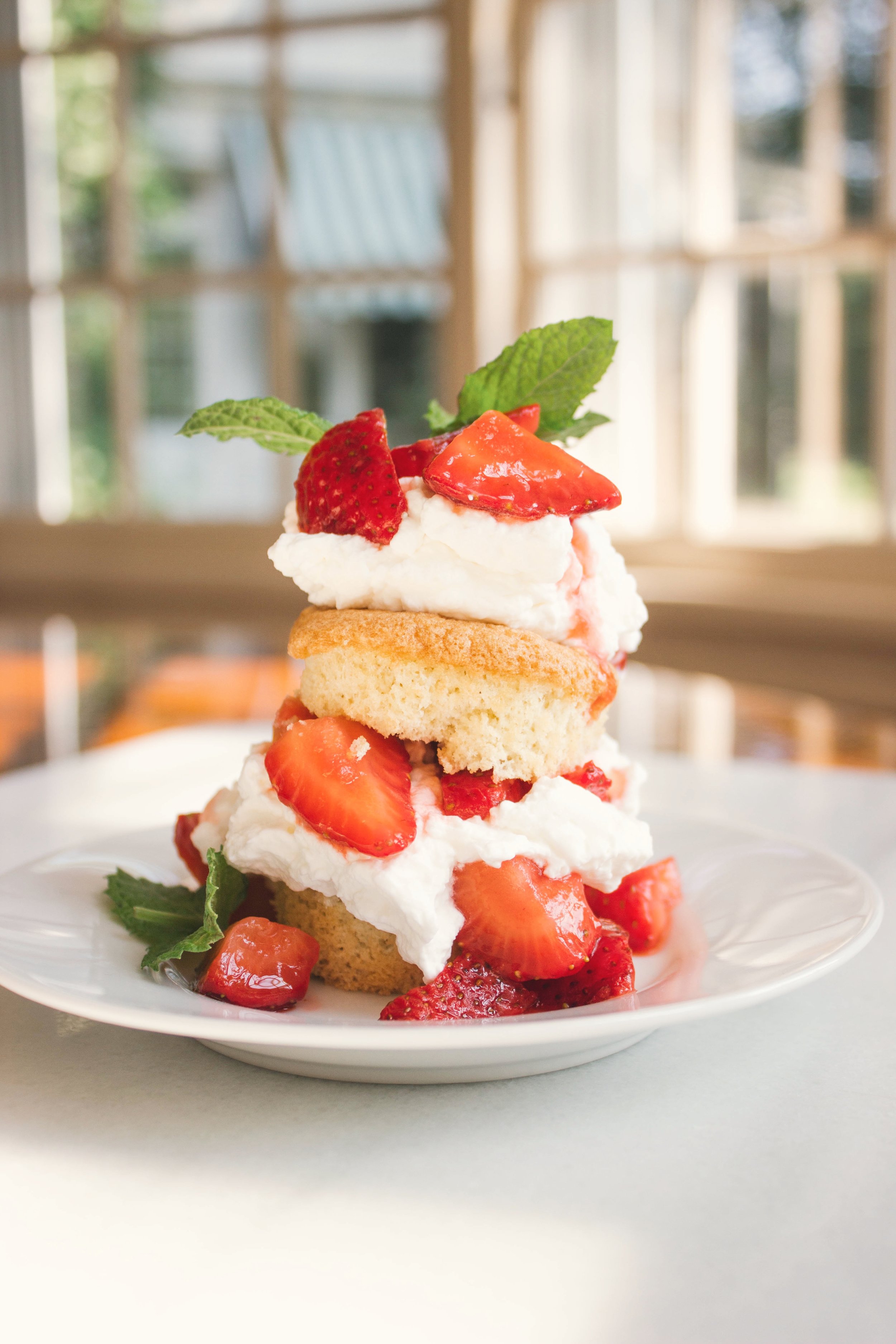 Directions
Shortcake
1. Preheat oven to 350°. Grease, flour, and line 2 x 8" or 9" cake pans. (Or line muffin tins with paper cups for shortcake minis).
2. In a stand mixer, beat the egg yolks on low speed for a couple minutes.
3. Add the sugar gradually, a couple tablespoons at a time, incorporating each addition thoroughly.
4. After all sugar is added, beat on medium-high speed until light and fluffy, 7-10 minutes. (If making the gluten free version, err on the side of 10 minutes - it's always best to get more air into gluten free batters!)
5. In the meantime, beat the egg whites with the cream of tartar (optional) until quite stiff.
6. Add water (make sure it is ice cold) and vanilla and mix thoroughly.
7. Sift together the flour and baking powder and fold into the egg and sugar mixture.
8. Gently fold in the beaten egg whites, incorporating fully but being careful not to over mix.
9. Divide mixture evenly between cake pans and bake for 30-40 minutes, rotating pans after 15 minutes.
10. Cool for 5 minutes in pans before removing from to cool on wire racks. Cool completely before splitting either the full-size cakes or cupcakes.
Strawberries
1. Hull and slice the strawberries.
2. Squeeze a little lemon juice into a bowl and add the sugar. Mix thoroughly with sliced berries, cover, and put in the refrigerator to stew.
Whipped Cream
Put cream, vanilla, and cream of tartar (optional) in a bowl and whip until spoonable.
Assemble
1. Split cakes or cupcakes in half, putting the bottom layer on a dish sliced side up.
2. Drizzle just a little strawberry juice over the top, followed by the strawberries.
3. Layer on whipped cream.
4. Repeat steps 1-3 until you've used all layers but one.
5. Place top layer on, followed by whipped cream. At this point you can choose to cover the entire cake with whipped cream, or just top with more strawberries, whatever your preference.
Happy Fourth of July!
Please take note: As an Amazon Associate I earn from qualifying purchases.