If a Pumpkin Became a Cloud
It's fall y'all! I.e., pumpkin everything. That's how it goes once September hits in New England (and basically anywhere there is a Starbucks announcing their much anticipated PSL...). I have trouble, however, totally making that switch when the weather is still warm and Labor Day still seems so near. Once the Autumnal Equinox hits and the days are a little cooler, though, count me in. Coffee, muffins, bread, pies, bagels & cream cheese... you name it: these ubiquitous treats will be in my belly.
I was searching for the perfect pumpkin bread recipe a few years ago and was instead lured by cookie recipes everywhere tempting me with the words "melt in your mouth". I opted out of my original idea, and justified this with my unceasing notion that not much beats a freshly baked cookie. I adapted a recipe from Better Homes & Gardens: half the granulated sugar so the (optional) addition of frosting doesn't make it sicky-sweet, filling in with brown sugar for a warmer, richer sweetness. I added ginger to mimic my grandmother's pumpkin pie recipe, and made a standard cream cheese frosting.
Voilà! Little delights I like to call pumpkin clouds (fluffy little pillows would also be an accurate description...). Irresistible, light, and not overwhelmingly sweet, this cakey cookie is the perfect treat to have on hand during October and November - especially with Thanksgiving approaching. You'll quickly realize why I prefer to call them clouds.
(Note: the condensed version of the directions is at the bottom of the post. If you'd rather your mouth water, scroll through the step-by-step photos below first...)
for the Frosting
3 oz cream cheese, softened
1/4 c unsalted butter, softened
Pinch of salt
1 t vanilla extract
2 c confectioners' sugar
for the Cookies
2 cups all-purpose flour
1 t baking powder
1 t baking soda
1/2 t salt
1 t cinnamon
1/2 t nutmeg
1/2 t ground ginger
1 c unsalted butter, softened
1/2 c granulated sugar
1/2 c brown sugar
1 egg
1 t vanilla extract
1 can (15 oz) pumpkin purée
Cookies
Preheat the oven to 350°F, and line a couple of cookie sheets with parchment paper. Then.....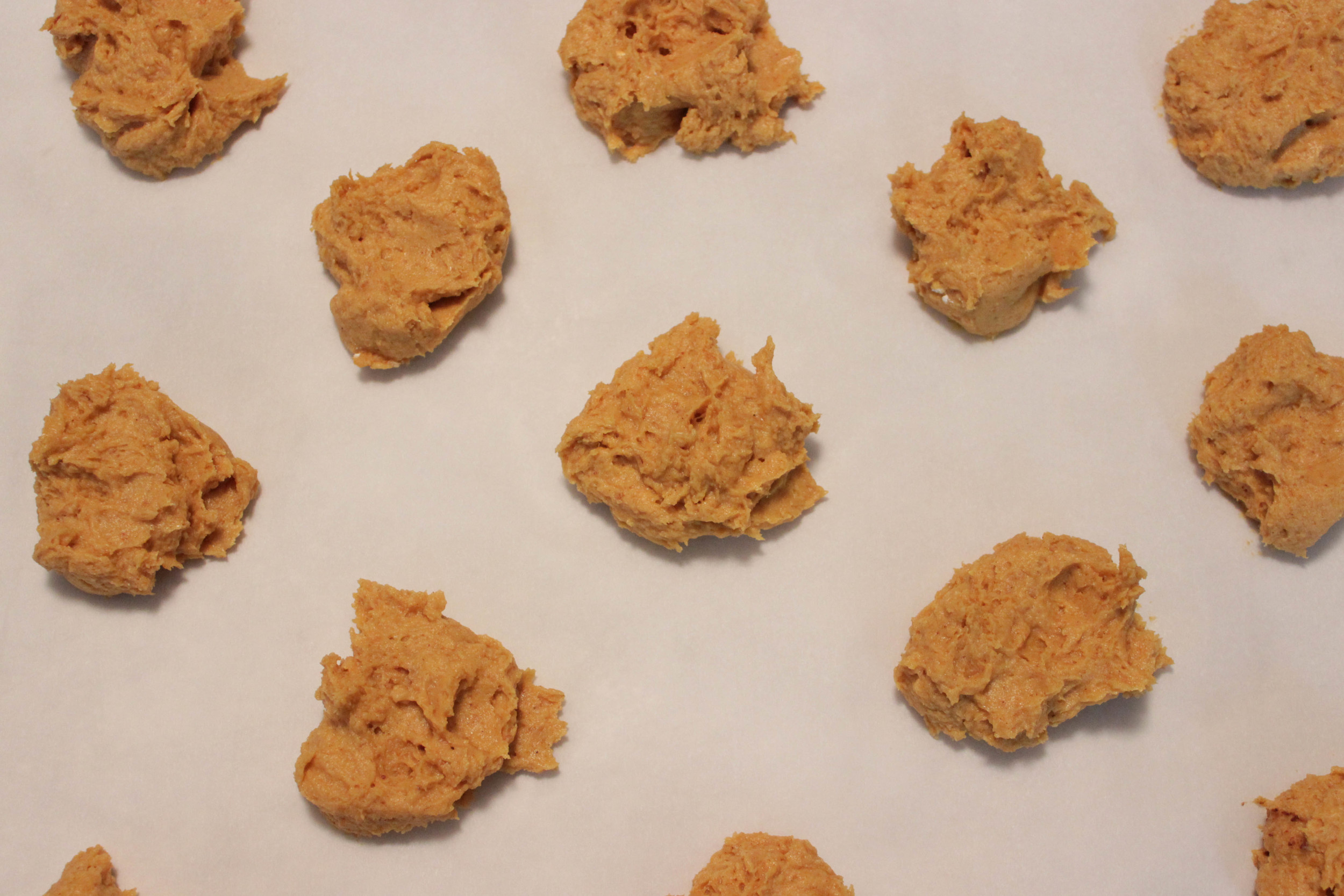 Frosting
While the cookies are cooling.....
Directions
for the Cookies
1. Preheat the oven to 350°F. Line two cookie sheets with parchment paper.
2. Put the flour, baking powder, baking soda, salt, and spices in a bowl. Whisk them together to combine and set aside.
3. Cream the butter with an electric hand mixer in a large mixing bowl, beating about 5-10 seconds. Add the sugar and beat about 30 seconds until smooth and well-blended, scraping the sides of the bowl once or twice. Add the egg and vanilla and beat again until smooth and creamy. Beat in all of the pumpkin until combined. Gently fold in the flour, in thirds, just until each addition is combined. The batter will be thick, but still very moist.
5. Drop the batter on the cookie sheets in heaping teaspoonfuls (or tablespoonfuls depending on your preference) about an inch or two apart, and staggering them.
6. Bake for 12-15 minutes, until lightly browned and slightly golden, and the center springs back. Remove the cookies from the oven and let cool on the cookie sheets for a few minutes before moving them, on the parchment, to cooling racks.
for the Frosting
1. Beat the cream cheese, butter, salt, and vanilla with an electric mixer until soft and creamy.
2. Add the confectioners' sugar, about a 1/4 cup at a time, beating until smooth.
3. Spread a little of the frosting on the cooled cookies and sprinkle with cinnamon and/or nutmeg.
They look pretty scrumptious, don't they?